Welcome to Stagelight Performing Arts, where
Our Acting, Dance, Musical Theatre, and Vocal Music training programs enhance your child's performance opportunities at school, in the community, and pre-professionally, helping them make their dreams of living on stage a reality.
Welcome to the 21/22 Season:
As we begin reclaiming our spot on center stage, we invite your child to do the same! Our brand new schedule includes some of your child's beloved classes from our current season, along with some returning all-time favorites.
The 21/22 Season runs from August 2, 2021, through June 24, 2022.
Enroll in any of our classes during our open enrollment periods: June 14-October 1 and January 3-April 1.
A note from our Director…
We know you have a wealth of options when it comes to choosing extra-curricular activities for your children, and we count ourselves blessed to even be one of those options. We take our role as performing arts educators seriously, committing ourselves to constant professional development, rigorous and engaging arts curriculum, and leading with love in our instruction and classroom activities. Our students work hard, have fun, and build lasting friendships with their peers on and off the stage. It is a joy for us to watch each and every one of these "Stagelighters" grow, shine, and navigate the challenges of life gracefully. We hope you'll join our Stagelight family this season, and if we're not the right place for your child, please share us with other families who are looking for a performing arts home for their children. If you're interested in touring our studio or peeking in on a class, come visit us! We'll let you take one class for free.
And now, as the Stage Manager says, "Places, everyone. PLACES!"
Sincerely,
Enroll via our Customer Portal or Stagelight app for all classes!
We are happy to announce two easy ways to enroll for your classes and private lessons, log absences, reserve makeup classes, and manage your account! Choose one option below:
1. Bookmark our Stagelight Customer Portal on your web browser or mobile browser. If you already have an account with us, click the "My Account" icon on the right hand side, select "Yes" when asked if you're a current customer, then click "Forgot Password." The system will take you through the steps to access your account. If you are a new customer, welcome! Easily create an account with your email address.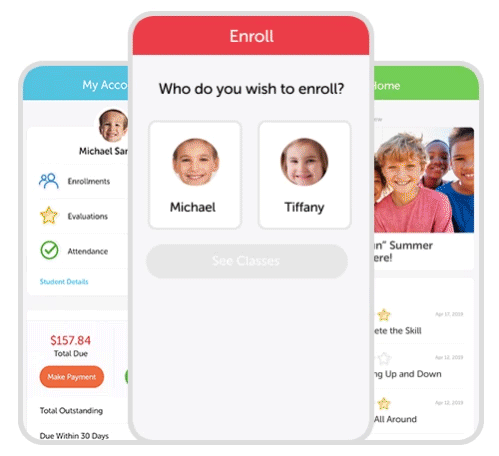 2. Download our app on any mobile device! Click the link below and use organization code: stagelightarts.
Never miss an announcement from us again by enabling push notifications! We are excited to integrate this application and hope that you enjoy this new on-the-go experience.
Looking for information about shows and performance opportunities with Stagelight Productions? Please visit their website here. 
We are proud to serve as a vendor for:
If you are a charter or homeschool student and would like to take classes at Stagelight Performing Arts, send us an email prior to enrollment and we'll help you through the process! If you don't see your school listed below, contact your school to request us as a vendor. We can't wait to live on stage with you!